We are excited to extend a warm invitation to you and your SME to join us for the Final ReStartSMEs & STARS Event!
This transformative event, organised under the esteemed EISMEA programme, is a gateway to unlocking the true potential of advanced technologies for SMEs across Europe.
Event Overview:
Date: 26th of September ' 23
Location: Brussels (In-person) & Online (Virtual)
Main Theme: Advanced Technologies for Resilience and Competitiveness of European Traditional SMEs – Lessons learnt and Recommendations for Policy Makers from the COSME-funded flagship projects 'STARS' and 'ReStartSMEs'
Why Attend?
This event serves as a beacon of knowledge and innovation, providing SMEs with the necessary tools to thrive in today's ever-evolving business landscape. By participating in this event, you will:
Gain Valuable Insights: Immerse yourself in in-depth presentations that reveal key findings and lessons learned from the successful 'STARS' and 'ReStartSMEs' projects.
Discover Policy Recommendations: Uncover the policy recommendations aimed at enhancing the competitiveness, innovation, and resilience of Industrial Ecosystems throughout Europe.
Engage in Networking: Connect with European, National, and Regional Policy Makers, industry experts, and like-minded SME owners, fostering valuable collaborations and partnerships.
Stay Future-Ready: Explore the critical role of advanced technologies in shaping the future of European Traditional SMEs, ensuring sustainable growth and prosperity.
Who Should Attend?
This event is designed for:
SME Owners & Entrepreneurs: Gain insights into the impact of advanced technologies on the manufacturing sector and discover ways to enhance your business's resilience and competitiveness.
Policymakers: Acquire valuable insights to shape policies supporting SMEs and promoting their adoption of advanced technologies, fostering economic growth and job creation.
Industry Professionals: Be at the forefront of discussions around advanced technologies' role in building resilience and driving competitiveness, making informed decisions for your organisation's success.
How to Participate:
Participation in this event is easy and convenient. Choose your preferred mode of attendance:
In-person: Join us in Brussels for an immersive experience filled with face-to-face interactions, knowledge sharing, and vibrant networking opportunities.
Virtual Access: Attend the event online from anywhere in the world, connecting with thought leaders, policymakers, and industry experts in real-time.
Event Highlights:
Keynote speeches by distinguished speakers and thought leaders.
Interactive panel discussions exploring advanced technologies and their impact on European SMEs.
Exhibitions showcasing cutting-edge technologies and solutions from industry-leading experts.
Virtual networking sessions to connect with peers and industry professionals from diverse sectors.
Presentation of policy recommendations for the growth and resilience of European Traditional SMEs.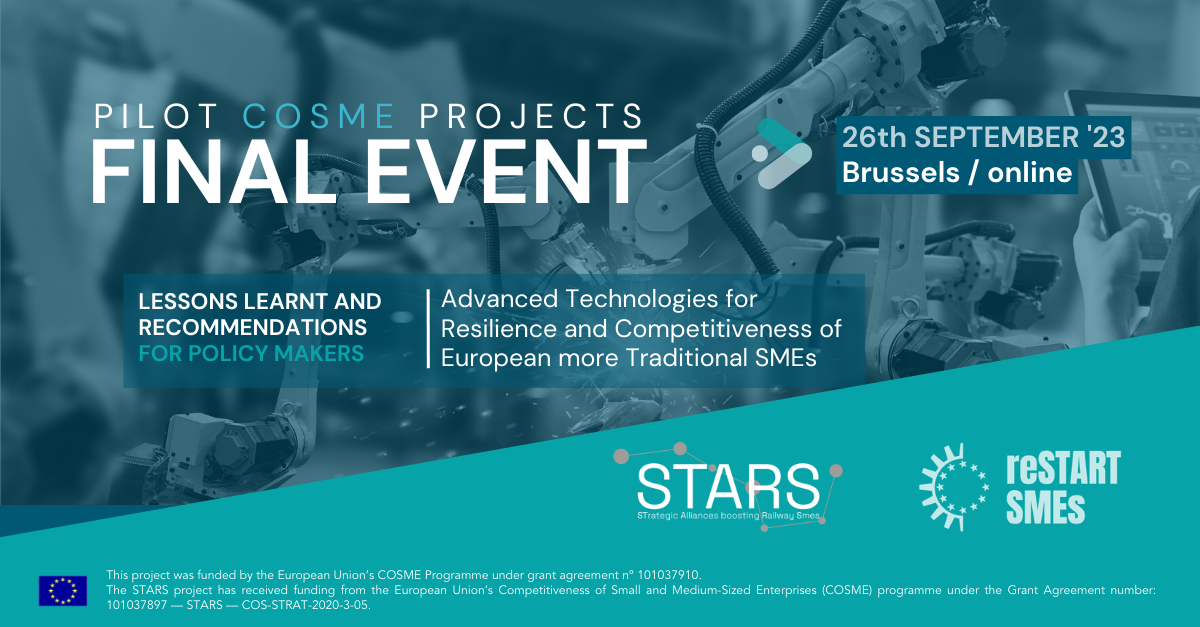 We look forward to your participation as we unlock the transformative power of advanced technologies for European Traditional SMEs' resilience and competitiveness.
Let's pave the way for a stronger, sustainable, and prosperous future together!